Kids' Ages at the End of the Summer: 2,9,4,7
I love reading these kinds of posts from other people; so I thought I'd share ours too.
Every homeschool family has their own approach to curriculum. Mine is to have tons of curriculum on hand- more than we have time to cover every day. Math and Bible are the only things we do absolutely every time we do school. Everything else we tuck in when we can, and the things that seem to be working best end up getting more play time.
History
The Story of the World
Vol. 2 as a read-aloud
Living History Books
(look for upcoming review)
Augustine Came to Kent
,
The Hidden Treasure of Glaston
Who in the World Biographies
(look for upcoming review)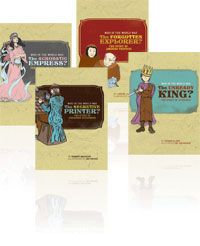 Christian Biographies for Young Readers: Augustine of Hippo,
Lady Jane Grey
,
Athanasius
,
Anselm of Canterbury
Timeline Cards
from Classical Conversations
Geography
Outline Wall Maps
from Abeka- Europe, Asia (we love this system! Look for an upcoming description of how we do this)
Science
Biology
- Real Science 4 Kids, Pre Level 1 (we just do this as a read-aloud)
Christian Liberty Press
Nature Readers
(already one of the sweetest parts of our day; look for an upcoming review)
Mystery Science
- just discovered this website this year. They take a lot of the planning and prep work out of science experiments.
Occasional Nature Journaling (I wish we did more!)
Math
Singapore
(U.S. edition)
Khan Academy
(we do paper math every other day)
Life of Fred
Fractions, Percents and Decimals
(we do these as read-alouds)
Bible
Still looking for a good curriculum. (Let me know if you have suggestions! We're mainly looking for a good Bible literacy and history plan) Currently reading through Acts aloud together
Memorizing: Isaiah 40:1-5 this semester to prepare for Advent, Isaiah 53:1-12 to prepare for Easter
Hymns: Comfort, Comfort ye My People, Lo How a Rose E'er Blooming, O Sacred Head Now Wounded.
Spanish
Rosetta Stone
Getting Started with Spanish
(my mom does this via skype with the girls)
Handwriting
Classically Cursive
Spencerian Cursive
(more as an art endeavor)
Language Arts
IEW Medieval History-Based Writing Lessons
(look for an upcoming review)
1st Language Lessons
P.E. Class
(drop-off class)
Piano Lessons
(teacher comes to our home...thank goodness!)
Theatre Co-op
(every other week...we've found this to be a great way to spend time with other kids without placing too heavy a burden on the moms)
So that's the skeleton of our homeschool life. I'd love to hear your recommendations and experiences.
*The above post contains affiliate links. When you purchase items through these links, I receive a small fee, at no extra cost to you. Thank you for all your support!